Blockheads is the sixth episode of Season 1 of Arby 'n' the Chief - Bytes.
Master Chief coincidentally feels like taking a break from Halo: Reach and instead surfing the web on Jon's computer while Arbiter is using it -- and makes a shocking discovery.
Master Chief is awaiting an opportunity to use the computer while Arbiter is currently using it, holding the phone up to use as a timer, and when it goes off, Chief says it was his turn now. Arbiter refuses and points out some toilet paper and lubricant near Chief. Chief claims the internet was for pornography and asks why else the internet was created. Arbiter says that it was used for the exchange of information, and Chief says that information was boring. Arbiter tells Chief that he is watching gameplay videos for a game that Jon is intending to buy. Chief says that it should have good graphics or he would kick Arbiter's ass. Chief takes one look a the screen and instantly freezes. It is revealed that Arbiter is using Jon's computer to watch gameplay videos of Minecraft. Much to his dismay, Arbiter finds that the video he is watching is being commentated (and quite horribly). He leaves, telling Chief that he'll give him five minutes, but Chief is still frozen. Arbiter concludes that the games graphics had overloaded Chief's system, and believes he will be back to normal in five minutes. However, Chief is frozen for four days. Meanwhile, Arbiter is playing Minecraft on the Xbox 360 and states it was the best week of his life.
Episode How-Tos
Edit
HOW TO surf the inner nets
HOW TO killed somebody
HOW TO figure out what the series of tubes are for
HOW TO build the greatest home ever
HOW TO have the best week of your life
Although Jon Graham voices the Minecraft gameplay commentator, he is left uncredited.
This is the only episode Jon produced in high definition (720p); the other two videos are "Lost" and the holiday promo of Arby 'n' the Chief in L.A., which were produced by Machinima Inc.
If you look into the Arbiters helmet, you can see the large amount of hardened glue.
If you look at the reflection of Chief's visor, you can see the computer screen is blank. Even though it is obvious that a video is playing in the background
Watch the Episode
Edit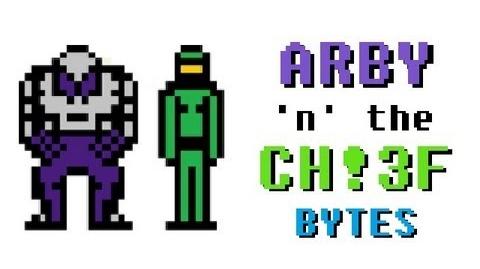 Community content is available under
CC-BY-SA
unless otherwise noted.