Event Horizon
Season 7, Episode 22 (86)

transcript
Air date
July 20, 2013
Written by
Jon Graham
Directed by
Jon Graham
Episode guide
Previous
Flatline
Next
The Big Bang
Event Horizon is the twenty second episode of the seventh season of Arby 'n' the Chief.
Following the banning of the toys and the news of Madeline's abrupt passing, Eugene suggests he, Tyler and Colin get the most out of Fragban while it's functional by initiating a merciless banning rampage. Meanwhile, Master Chief decides to put Colin's private IRC server info received from Peter, the young boy who was under the threat of sexual assault, to worthwhile use.
Eugene, Tyler and Colin are in a server together. Tyler gives half-hearted condolences to Eugene for Madeline's death and gets subsequently scolded by Eugene and Colin, who expresses his sympathy in a solemn tone. Tyler informs the two that, after their confrontation, Brody tried to commit suicide by ingesting pills and is currently at the hospital receiving medical attention. Afterwards, they discuss the possibility of them being arrested for their reign of terror on the network and possession of the fragban patch due to Arbiter and Chief having defected from the clan. Colin reassures the two that it would be impossible for them to serve jailtime, but Tyler realizes that they could send fragban to the network adminstration. Eugene decides that the three should make good use of the patch until they do.
Meanwhile, Chief sits at the computer waiting for Colin to sign on to the IRC address he managed to get from Peter some time earlier, intending to pose as Peter and ask Colin for an intimate rendezous and later use the chat logs to get Colin in trouble with the law. Arbiter arrives and Chief relays his plan to him. After hours of conversation, Colin agrees to meet and the duo call 911 emergency services to report the conduct.
Later on, Eugene and his clan ambush a race on a server and frag the players there. Arbiter and Chief, who have managed to get back online with the new Xbox that they ordered, arrive to confront them.
Transcript
Edit
Main article: Event Horizon/Transcript
Watch the Episode
Edit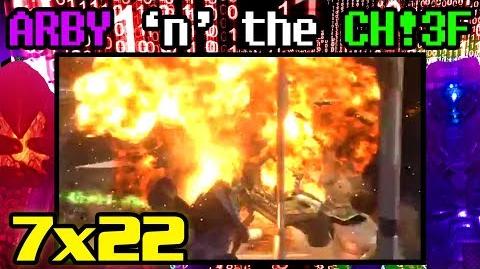 Community content is available under
CC-BY-SA
unless otherwise noted.