Just Say No To Robot Porn is the thirteenth and final episode of Hypermail: Season 1.
Master Chief and the Arbiter answer yet another bunch of viewer mail in this season's finale.
The episode starts with Arbiter looking for Chief. He finds him, and asks him if he is going to be reading out all the hypermail by himself for the finale. Chief says he isn't, and walks towards Arbiter, revealing the arrow that is stuck in his knee, making a reference to the popular meme from the video game, The Elder Scrolls V: Skyrim.
The mail begins, with Chief being the only one to read it out.
From Alex:
"Dear Arbiter and Chief
You guys are the best. Good job on hypermail and the story episodes. Keep up the good work you two!
-Alex" - Chief responds to Alex's mail by telling him that he sounds like a faggot.
Arbiter decides that it isn't going to work with just Chief doing the mail, and joins in himself.
From Jamie:
"chief u kick ass arbiter go choke on some cyberg balls no offense
sincerely yours
ps
chief rocks" - Chief tries to do a bro-fist, telling Jamie to punch the screen. Arbiter calls Jamie's typo to attention, saying it sounds like a Jewish robot.
From Leffnoid:
"dear chief,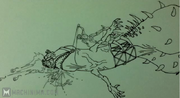 here is a picture I drew of you on a cock monster biting arbiter's penis off. u are so much more ossim possim then that fagget tell that terd faec to go fuck a duck
sincerely, leffnoid" - Chief says that the picture is amazing. Arbiter jokes about how Chief loves riding cocks.
From Kevin:
"This message is for both of you.
To end the first season of Hypermail, will both of you dance to "Activate?" " - Chief ends the season by turning on the song on the computer, and both of the two dance to it.
Watch the Episode
Edit